The electrical scooter company Grin issued has just announced its expansion to Colombia, starting with Colombia's capital Bogotá. Users will be able to book their rides using the popular delivery app Rappi, made possible through a strategic partnership with Colombia's first 'unicorn'.
Getting from A to B in a new way that is convenient, easy, clean, and not to forget fun, Mexican startup Grin promises to transform the Colombian experience of public transport. The network of small green scooters that are already dotting Mexico City will now be available in Bogotá's hip Chapinero and Uzaquén district, and plans are to roll them out across other major Colombian cities.
How does it work? The electrical scooters can be found in so-called 'Zonas Grin', where users can unlock them by scanning a QR code with their mobile phones. A flat fee of $1500 COP to unlock and $300 COP per minute will be charged while urban travelers are speeding through the streets.
Not cheap, considering that Taxis in Bogotá only cost around 900 COP per kilometer – yet it helps to avoid the capital's notorious traffic jams and it is easy to combine with other modes of transport, says the company.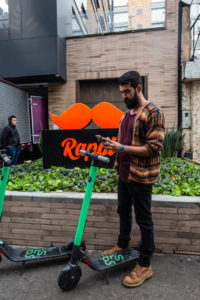 "A Grin scooter allows you to take the first or last leg of traveling to that meeting, lunch or work appointment that is relatively close, but that would take you a lot time by car," explains Simón Borrero, CEO of Rappi.
Instead of having to put up electrical chargers, the startup had the idea of involving the community: Local residents can apply to earn a side income as 'Cargadores', collecting scooters across Grin Zones in the evening and charging them overnight.
This community aspect is key, says Santiago Hernández, Country Manager of Grin Colombia. "We want to improve the mobility of Bogotá and doing it in an orderly manner, working hand in hand with the community and local authorities," he explained to the press.
While the test phase with the first 150 scooters is just kicking off, Grin has found itself the best-known partner that Colombia's startup scene currently has to offer. Earlier this year, delivery platform Rappi became the first of the country to join the league of Latin American unicorns, meaning startups valued at more than one billion USD.
According to the joint press release, the alliance with Rappi will not only allow Grin users to unlock the scooters by using the Rappi app. The scooter startup will also be able to tap into the many relationships that Rappi has built with local businesses to facilitate access to these public spaces in an "orderly manner", the companies believe.
Grin and Rappi seem to be determined to calm down possible concerns of pedestrians that the scooters could obstruct the streets. "Our experience in other Latin American cities shows that 90% of our trips end at a Grin Station. The partnership with Rappi allows us to implement this methodology in all countries and keep public spaces free and orderly for pedestrians to enjoy", states Sergio Romo, CEO of Grin, to the press.
The entry of a system of electrical scooters will certainly be good news to those who are pushing Colombia's capital to revamp its polluting and inefficient public transport. In a survey by the national planning department, almost half of Bogotá's inhabitants named air pollution as their biggest environmental concern.
Yet it should not be forgotten that it was here where the term "ciclovía" was invented, meaning the closing of main roads on Sundays that allows thousands to descent in the streets with their bikes. Ciclovía has long been extended to many other locations – and as Grin announced its ambitious plan to place 70,000 scooters in the most important cities of Latin America over the next six months, the electrical scooter might be right on track to follow the bikes.