At El Lab coworking space, many are glued to the projector screen as Colombia come from 2 goals behind to win 3-2 against the French. It's full-time in France and a series of clocks show the time in London, Hong Kong, Los Angeles  and Cali. The message is loud and clear: in Cali, it's time too.
Santiago Gómez, co-founder of El Lab is half paisa-half caleño and is bubbly at the prospects of this coworking space. He lists "super-artistic" and "creative" as the characteristics of caleño startups that are slowly beginning to fill the coworking spaces within Colombia's third biggest city.
Situated in the Valle de Cauca, Cali has often played third fiddle to bigger brothers Bogotá and Medellín. Unable to attract people with the highest wages, this well-connected and heat-filled city still has much to offer. "The entrepreneurs from Cali are very creative." Gómez told us, "It's a quality coloured by the heat, music and dance of the city. The creative industry in Bogotá say that the most creative minds in the country belong to the caleños."
Initially having had a tech startup, Gómez along with two other founders realised they wanted a more collaborative atmosphere, which resulted in them setting up El Lab.The aim at El lab was to have an ecosystem-builder where members, who are called Labsters, are working together to nurture the city's startup ecosystem. Their focus is on entrepreneurship and technology, running projects not just in Cali but in the departments of Quindio, Cordoba and Naranjo and they're also looking to improve their channels with businesses in Canada and the US.
"There was a generation that wasn't as interested as this generation is in entrepreneurship." Gómez said of the evolving character of the people who set up shop in the city, "We don't have any political affiliations nor do we work with special interests. We're just here to work."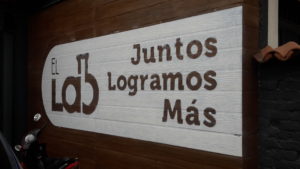 Which goes to show that El Lab isn't just an experiment, it's sound science: work hard and the results follow. There are around 100 startups at El Lab with around 40 based in the tech space. They have mostly early-stage startups composed of local talent though there are digital nomads sprinkled throughout the coworking space.
But where El Lab is a fully private builder of ecosystems, the Cali Chamber of Commerce (Camara de Comercio Cali) is the publicly funded body that looks to promote business and innovation in the city. Paola Andrea Franco spoke to Latam-Tech, in their offices in the northern part of the city, of the work her department–named Tools for Innovation–can bring to local startups. In addition to providing training on how best to innovate, they also provide assistance on intellectual property, including that of patent protection.  There are also regular events aimed at bringing the community together like the monthly '¡Cali Mira!' which was intended for "startups to get to know their story a little better and to motivate, inspire and create from the event," Franco said.
The Chamber runs a number of programs that seek to boost local talent towards higher plains beyond the Valle de Cauce. Foguéate, for example, is a program run by the Cali Chamber of Commerce that helps entrepreneurs with companies with sales in excess of COP150 million and in the last year of operation. The program is designed to identify, promote and improve the skills of dynamic entrepreneurs in the region.
Another program, Valle Impacta seeks to find the startups with greatest potential for growth and assists them by providing strategic direction, business mentoring, and other key tools to scale their business. "The aim for Valle Impacta is not so much startups but scale-ups" Franco said. "There are more than 70 companies and they are businesses that are at another level and growing fast."
And while the opportunities are many in Cali, it's not necessarily all song and dance. We spoke to Nate Bunger–who runs the successful hostel Casa Miraflores–who was critical of the bureaucratic nature of the Chamber of Commerce and how it at times acts like a governer on innovation rather than help it. Bunger started his own hostel and smoothie business back in the US and he's now hoping to bring digital nomads into Cali by starting a business development package for them. He hopes that things can improve in time for him to start his new venture with digital nomads.
Frenchman Emmanuel Boros at Bocalista is one such digital nomad who also feels Cali could improve on its offerings for startups. Offering a Spanish news website that has its audiences in Mexico, Argentina and Chile, Boros has set himself up in Cali with his team in various other parts like Bogotá, Venezuela and Mexico. "It's still a bit behind Bogota and Medellin. But you can start to see now more coworking spaces and several good universities but there's still a lot to do before they can catch up."
Speaking to us from the plush offices at Existaya Agency, Director General Andres Escobar told us that while the ecosystem showed great potential for growth, Cali and The Chamber of Commerce are not strong enough in promoting businesses that are focused on the digital verticals.  "There are many businesses that appear in traditional sectors but the other part they need to focus on is technology." Escobar told us.
Catering to clients like Marketing University, La Manicurista and Seguroya, Escobar was quick to note that the innovation in the city was boundless if it can be given direction, as seen by Zonamerica's newest campus which has begun construction.
In addition to having an important university in Eceise, which has its own incubator called Startup Cafe, Cali can often be an important step towards greener pastures. "The path is usually to start off in Cali, push on to Bogotá, Medellin or Barranquilla. Now they are also looking to Peru and Ecuador as well," Escobar said. After all, the founder of Rappi is Simón Borreo, Colombia's answer to Deliveroo, who is a caleño himself.
In order to address this gap in digital entrepreneurship, a recent event on the topic entitled "The digital future in Colombia: companies or entrepreneurs?" discussed the future of this space in the region.
Apps.co, an initiative aimed at boosting digital businesses by Mintic, organised the event and its head Carlos Rozo shared the figures that suggested the digital scene was on the rise. "24 companies of the region conquered more than 8,300 clients, generating revenues that approach $ 6,000 million pesos," Rozo stated.
This may suggest a resurgence is due in Cali in this space. Which is why Cali, much like Medellín before, will no doubt be hoping to shed its cartel image that has been popularised around the world in favour of a more tech-forward, modern ecosystem that allows for newer digital startups to flourish. Whether Cali can catch up and get caliente, will be a question many startups in the country will take a keen interest in.