Brazilian commuters can avoid traffic, while contributing to a cleaner environment with Zumpy, an app that helps you connect to other commuters on your route, so that you can work out a carpool. Zumpy was on the list of fifty Latin American startups selected by the World Economic Forum (WEF) and the International Finance Corporation (IFC) to participate in a special program during WEF's annual regional meeting in Brazil.
Zumpy founder and current CEO Andre Andrade told LATAM Tech, "We are very honored to be invited to participate in the World Economic Forum and the International Finance Corporation. This shows value for our work and demonstrates that sustainable mobility is becoming increasingly important for the lives of people in big cities."

Zumpy started three years back when Andrade got fed up with getting stuck in traffic every day. One day, after a chance encounter with a neighbor, who was taking the same route at the same time, Andrade realized that there must be several groups of people, who take the same route at the same time, yet travel in separate vehicles. "She made the same route as mine every day, at compatible times, but each of us used our own car alone," he told Folha Nobre.
Thus was born the idea of sharing cars, leading to Zumpy, which is now the largest platform for carpooling in Brazil. The startup has already got 120,000 registered users in 1,800 Brazilian municipalities. It boasts of more than 470,000 rides since 2015, which means avoiding emissions of up to 4800 tons of CO2 into the atmosphere.
Andrade says while starting Zumpy, the main problem he faced was convincing people to use public transportation. "However, we are able to improve urban mobility by occupying vacant seats in private vehicles, encouraging people to make compatible routes to get around together," he said.
The primary impact of Zumpy usage among the public has been to reduce the number of vehicles on the streets, reduce overcrowding of public transport and consequently a reduction in the emission of pollutants and the cost of transport.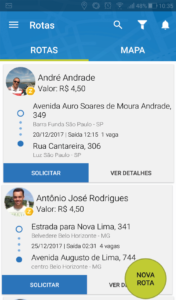 Most users of Zumpy are in Belo Horizante and Sao Paulo followed by Brasilia, where the company has clients such as the Attorney General's Office, the Federal Court of Audit, the Ministry of Environment and Ibama. A proud Andrade has reportedly announced Zumpy's plans to go international this year. They are preparing to expand Zumpy in Europe as well as the US.
Zumpy is part of the IoT innovation that has been revolutionizing the Brazilian market, an area that has been previously reported on LATAM Tech. In 2015, the company won 90,000 rials after participating in a course on innovation and entrepreneurship promoted by Stanford University, with the support of Sebrae Minas, Fumsoft and BDMG. Zumpy, which was launched in 2015, has already been updated to its third version. Many enhancements have been added to the app, allowing organization of car pools among business groups or facebook friends. The third version of Zumpy also allows sharing of transport expenses. The payment is made in the app itself using credit cards.
However, the credits paid cannot be paid directly into a bank account. Instead, the credit can be used for maintenance of the vehicle. Currently, Zumpy credits can be used to pay fuel in more than 7,000 Ipiranga stations throughout Brazil and also to pay IPVA tax. From June, the credits will be allowed use in more than 15,000 car maintenance shops. The credits can also be used in tire replacement, alignment and oil change. This partnership has already been implemented. Soon they would be used in ecological washing with the company Easy Carros. Negotiations are also going on with some companies to use the credits for payment of insurance.
Andrade says Zumpy's goal in 2018 is to reach the mark of 300,000 users, 500,000 rickshaws, and stop issuing more than 10,000 tons of CO2. Already, in just one year Zumpy has reached 150,000 rickshaws, which means that more than 5,150 tons of CO2 are no longer emitted into the atmosphere.
Zumpy ensures safety by segmenting the rides with safety filters, for example, people who provide shared transport are not professional drivers but rather ordinary people in the work-to-home or university or events segment.
Users can form groups with social network friends. In collaboration with Facebook, when signing in, Zumpy picks up a list of all the friends of the user and at the moment of the registration of routes this user can opt that this route be visible only to Facebook friends present in the application or also friends of friends, or people who have some reference.
The Carona Women tool in Zumpy is an option available to women, to make shared transport between women only. Users can choose to make rides only between groups, which are of four kinds. Private groups are people the users selects by invitation, and are ideal for families or for a restricted group of friends.
Public groups are groups of people who travel to a specific address, and are ideal for university, football stadium, shows etc. Moderate groups are similar to a WhatsApp group, wherein interested users ask to join the group and the moderator may or may not accept it. This is ideal for condos, parties, etc.
There is also a group protected by institutional e-mail, ideal for companies and institutions. In this group, only those who have a valid e-mail with the institutional e-mail domain can participate, guaranteeing that the transport will be made among co-workers.
In addition to business and safety model differentials, Zumpy is the only application that can measure, with approved methodologies, how much CO2 is no longer emitted by practicing shared transport. This CO2 saving is accounted for both the user and the group that it participates in, which is a great benefit for companies and institutions to encourage users to use the tool.
Andrade also thinks that Brazil has a bright future in startups. He says, "Brazil has a huge market for disruptive technologies. We are the second largest number of users of Waze, one of the most popular Uber users and the like, and several successful startups like 99, Nubank, Sympla, and many others stand out in Brazil. Brazilians are creative entrepreneurs and very focused. With more support, we will have successful startups."
As part of WEF and IFC's special program, Zumpy, along with many other successful Latin American startups like the Chilean NotCo, Mexican Konfio, and the Guatemalan Kingo Energy, will get a chance to showcase their talents as well as get access to global investors, policy makers, and corporate leaders.
Andrade said, "The support of important institutions is fundamental to the growth of startups, demonstrating that we are on the right path. This kind of support will be fundamental for future practices with other companies."