Acelerar España begin taking applications tomorrow for their accelerator program in Madrid in the bid to support upcoming Argentine entrepreneurs. An initiative by the Cámara Empresarial Argentina en España (CEAES), a non-profit institute that seeks to give Argentine startups a leg up, the second installment of Acelerar España will pick up where they left off last year by helping entrepreneurs from Argentina find their feet when attempting to take their product or service to the global marketplace.
"This is a unique opportunity for Argentine entrepreneurs to expand their business and enter the European market through Spain," Leandro Sigman, President of the CEAES, said to Infobae. "Not only do we provide them with the tools to internationalise their company but, after an intense period of advice, we connect them with funds from interested investors."   
In what is affectionately known as a softlanding program in the business, the program gives innovators from Argentina guidance over 40 days in Madrid as they course through the first phase of becoming more international companies.
But you can't be a part of the 40-day event unless you compete. Which is why Acelerar España is in the lookout for candidates from Argentina, of whom they will pick 8 innovative startups for the Madrid-based program. In addition to a networking week where finalists can connect with movers and shakers, candidates can also make the most of pitch days and advanced management  and advisory programs to take their idea to the next stage of development.
Registration opens at 8pm tomorrow and will remain open till midnight on April 30 2018. After that, 8 finalists will be flown to Madrid on May 12 where, after 5 days, two winners will be announced. The 8 startups will have a chance to mingle with the Spanish entrepreneurial ecosystem and refine their pitches as they compete before a panel of business leaders in the Spanish capital.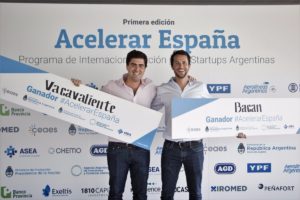 Last year, startups Bacan and Vacavaliente took out the top prize, beating out other participants, Wonderlab, Codealike, DMO Design, Appnobis, Xinca and Agro Sustentable. Both winning companies hail from Buenos Aires and are in the field of exquisite design;where Bacan acts as on online fashion consultant that tailors to your build, Vacavaliente crafts objects of beauty from recycled leather for the home, workplace and kitchen.  
Given the depth within the Argentine startup ecosystem, it is anticipated that the calibre of contestants in this year's edition will match if not exceed the high standards set by the class of 2017.